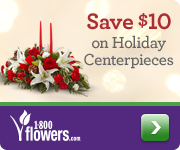 Getting a discount on Flowers, this is wonderful! I love flowers, and especially sending flowers to my loved ones and friends. I often send flowers to my friends and family members that don't live close by, friends who have had to move out of town or live in completely different states, and I don't get to visit them often.
The action of sending flowers for me is very gratifying, as the flowers show them how much I care for them, and that I often am thinking of them. The beauty of flowers lasts for some time, and the memories that they hold for the recipient lasts as well. Send them for just about any occasion, or just because.
Flowers ordered from 1-800 Flowers are so convenient for me, because I can order them and have them sent just about anywhere I want them to go. It's never been so easy!
Say you love someone today with flowers and get a discount too!
Save 15% off Flowers and Gifts Using the Promo Code HAPPYBDAY at your checkout
Related Posts via Categories